The weather conditions prevailing for most of last week were pretty stunning: calm winds, mild air temperatures and blazing sunshine. Good news for pollinators and breeding birds alike, with some excellent numbers of butterflies such as Green-veined Whites, Red Admiral and Meadow Browns in the island's rough grassland and meadows.
Just yesterday Butterfly Conservation launched their annual 'Big Butterfly Count' initiative to encourage the general public to spend just 15 minutes counting butterflies in the coming three weeks. It could be made from a single point in your garden, say, or the 15 minutes could be used in transect-style walking through different habitats or areas. I hope to carry out a number of counts before 8 August to contribute to this large citizen science project. You can find out more details here
Early to mid July is when we really start to notice autumn passage start up in earnest, with waders filtering through and the first returning warblers appearing on calmer days. The last week has been no exception, with high tide counts of waders around The Narrows in particular revealing a good number (by Bardsey standards!) of waders arriving. This week's peak counts included singles of Ringed Plover, Sanderling and Dunlin, five Wimbrels, 29 Curlews, 14 Redshanks, eight Common Sandpipers and two Turnstones.
A closer look at one of the Whimbrels reveals three colourful rings adorning its gangly tarsi: this bird is one we caught and fitted with colour rings last November. The colour ringing is carried out in an attempt to understand their wintering and migratory behaviour in more depth, and this bird is certainly giving some results! It's been here on-and-off through the winter, spring and (now) summer too.
Whilst the island's breeding birds are busy provisioning young or tending to second and third broods, some juveniles are already arriving from further afield. Bright yellow Willow Warblers are clear migrants that are one of the classic markers for autumn passage for me; the first was noted in the plantation on the 10th, and we can expect numbers to really increase in the coming weeks. The odd Grasshopper Warbler has also been turning up, along with overhead passage of House Martins, Sand Martins, Swallows, Common Swifts, Grey Wagtails and a smart male Yellow Wagtail on the 13th.
I've been helping Liam Curson, one of this year's assistant wardens at the observatory, complete his breeding bird censuses of the east side this week. Yesterday we did a thorough survey of the cliffs and rocky slopes to attain counts on fledged young.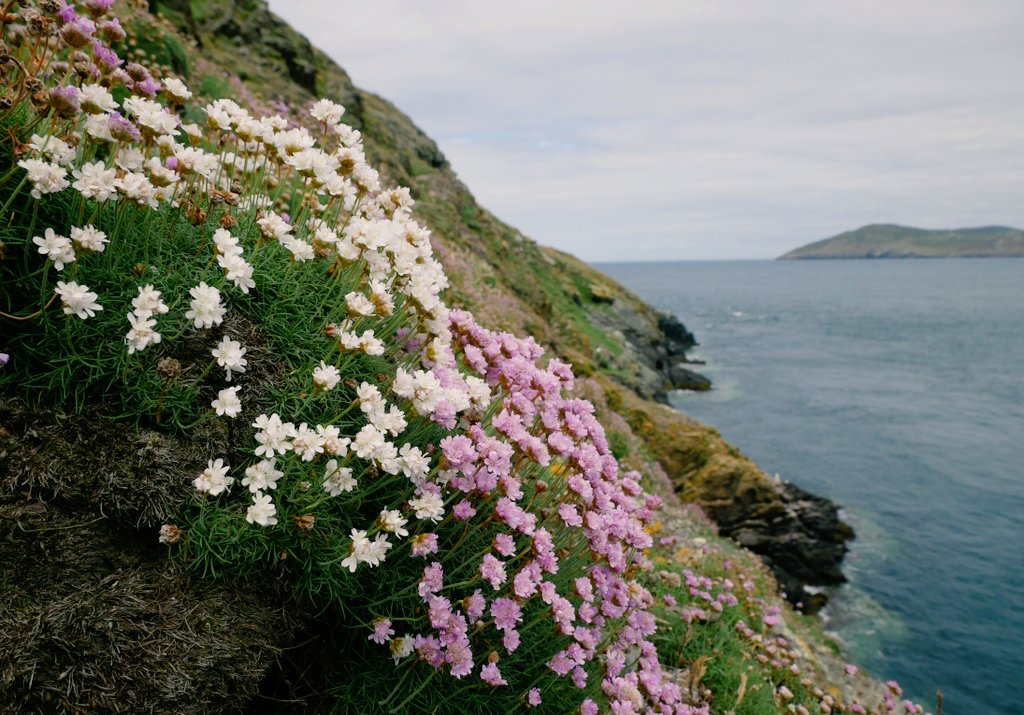 It was amazing to see how bare the ledges and boulder fields were of Razorbills and Guillemots: they've almost all left the island in the space of a week, hopefully each with their single chick! There are some fun videos of so-called 'jumpling' Guillemot chicks fledging on Rathlin Island that are worth a look.
Of the birds still breeding around the East Side, we have Puffins, Kittiwakes and Fulmars. Kittiwakes seem to be fairing rather badly indeed this year: the south colony, which constructed some 55 nests in total, have just a single large chick to show for their efforts. The nine chicks we counted here last Sunday must have been predated in the last few days, which is sad indeed.
On a particularly calm evening, we decided to take our little fishing boat out to watch the amazing evening raft-up of Manx Shearwaters that takes place on a daily basis off the island's coast. We were treated to a spectacular gathering of some 6000 birds, rafting up on the water in scattered flocks, shearing past on stiff wings and flying within metres of the boat.
This daily gathering takes place towards dusk as birds wait for the cover of darkness before heading to their burrows on land. Most of these birds are likely to have fluffy chicks in their burrows, eagerly awaiting a meal
The calm seas over recent weeks has meant that the waters surrounding the island are crystal clear, taking on turquoise shades of blue and green where the rocky seafloor gives away to patches of sand. I've headed out armed with snorkel, mask and fins on a few afternoons to see what marine life can be found. Aside the usual inquisitive Grey Seals, there were plenty of Blue Jellyfish drifting with tentacles poised to catch unwary prey; the smaller and more tansluscent Ctenophore jellies like Sea Gooseberries and Comb Jellyfish were also plentiful, whilst various species of Wrasse skulked amongst the Kelp forests.
Whilst walking through the observatory garden a few days ago, I noticed a St John's Wort plant was covered in circular abscissions on its leaves. I immediately recognised these neat cut-outs as the work of a species of leafcutter bee in the Megachile family. The next day I even saw a small colony at work carrying the cut leaves into their nest to line the larvae's cells. They are an amazing species, and I've never found a plant that has been quite to extensively utilised as this!
On a couple of calm nights over the weekend, I joined Mark Carter and staff from BBFO to try catching some Storm Petrels. We set up a single mist net on the steeper East Side of the island and played out the blaring playback call of a singing male to attract in any passers-by. We were rewarded with five of these superbly dainty seabirds, which were duly fitted with their rings and released into the darkness of the night.
Two days later I received a message from North Wales ringer and birder Rob Sandham that they had also been ringing Storm Petrels recently, and had caught a bird already bearing a ring. It turns out the individual was one we had ringed on the 6th of July; it was retrapped by Rob in Porth Ysagden on the 9th. An interesting recovery, albeit not particularly far!