I was planning on something of a digital detox for the final few days of the #30DaysWild challenge: dooing away with the cameras, smartphone, laptops and other such electric paraphernalia that we've become so dependent on in our everyday lives…
It seems my laptop caught wind of this thought and decided to die today, taking with it (amongst other things), my 30 Days Wild posts for the last few days and a host of images and files that are backed up only on hard drives at home. On the plus side it will certainly make it easier to enjoy a day with no technology – focusing instead on appreciating some books, the fresh air and the day's moments without my second-nature desire to capture such sights in pixel form…
Today's random act of wickedness to blog about was an enjoyable trip to the remote island of Cape Clear, known as Oilean Chléire in Irish. It's quite amusing that, having come all this way from north Wales to south-west Ireland, we managed to find a small island populated with goats and cows, choughs and seabirds, with shearwaters offshore and a bird observatory to top the lot…busman's holiday come to mind?
Cape Clear, or Cleire in Gaelic, is a 45 minute boat journey from the pleasant harbour of Baltimore in Co Cork. Passing impressive coastal cliffs and flickering Black Guillemots whirring by, we also saw Grey Seals, Porpoise, feeding flocks of Gannets and rafts of 50 or more Shags en route to the rugged Irish isle.
The main harbour, nestled in a sheltered bay on the island's north-east side, is home to one of Britain's 19 accredited bird observatories: Cape Clear Bird Observatory. Most famous for turning up a mouth-watering selection of american vagrants, and its insane shearwater passage of Cory's and Greats (the latter earning its spot as the observatory logo). It was great to pop in and say hello to the team, namely that of warden Sam Bayley and a visiting researcher Jodie Crane. They were both enjoying a brief rest after a 4am start for a morning CES ringing session!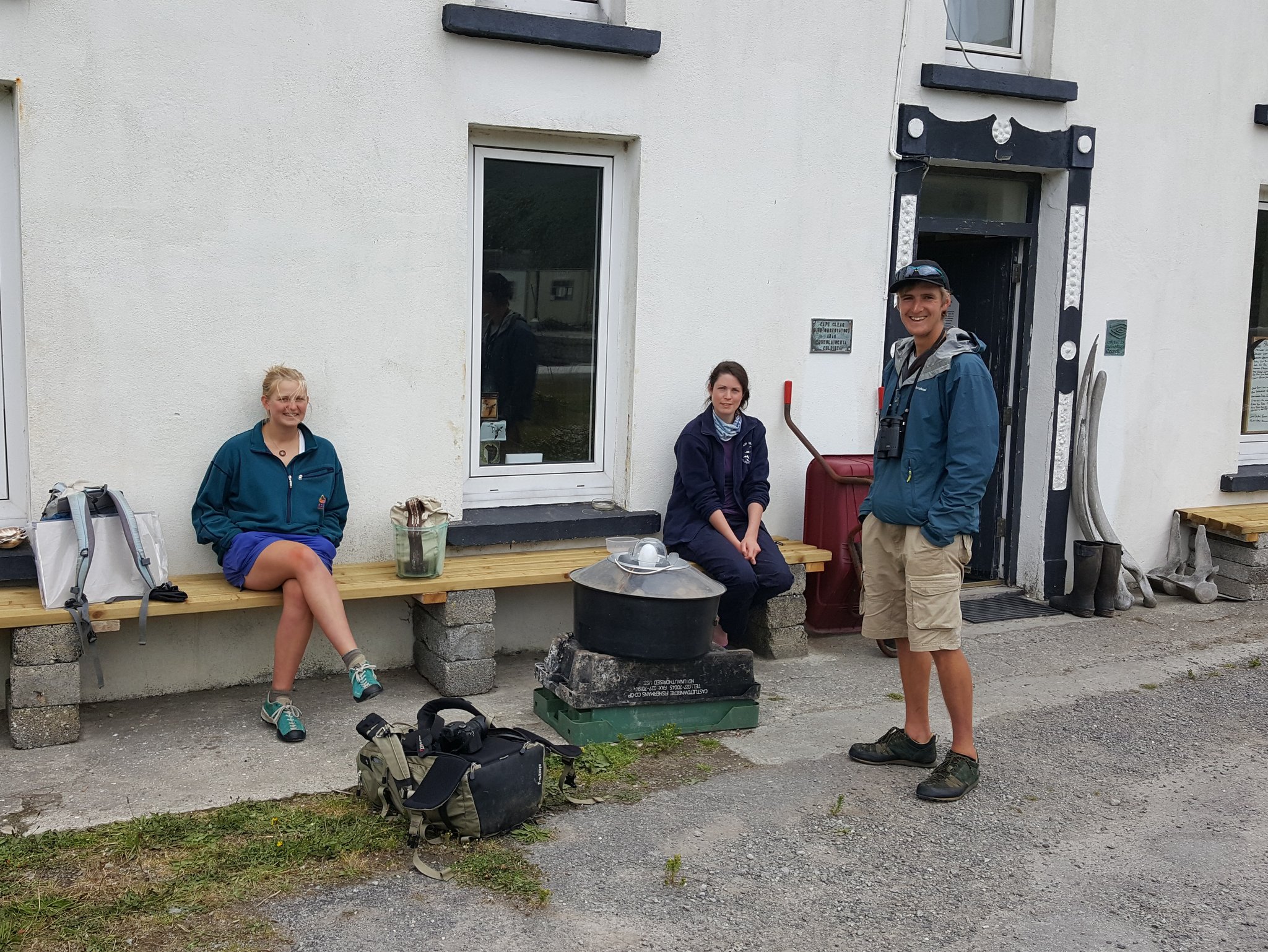 We emptied the contents of the obs's trusty Robinson moth trap after I arrived, with Pod Lovers, Triangle Plume, Phycitodes binaevella, a fresh Poplar Hawkmoth and Aspilapterix tringipennella being the highlight of me. Sam then kindly whisked me off on a short tour of the isle's western haunts – the sites that have held such mouth-watering rates as Yellow-bellied Sapsucker, Yellow Warbler, Wilson's Phalarope and Ruby-crowned Kinglet. 
The island is criss-crossed by a maze of stone walls, with a mix of habitats populating the hilltops and valleys in between: meadows, boglands, heather moors, pastureland and the odd body of fresh water. Sedge Warblers were surprisingly abundant, along with Stonechats and Whitethroats in the bramble and bracken scrub. The odd familiar call of a Chough broke the peace, whilst Swallows zipped about the meadows and a distant guttural croaking of nesting Fulmars drifted across the tranquil water of south harbour.
It was great to get an overview of this premier seawtaching spot, where they have witnessed over 40,000 Manx Shearwaters passing every hour, and with thousands of Great and Cory's Shearwaters seen every day in early autumn. Naked to the atlantic's brute force, it must be pretty spectacular to witness a 'proper' storm here, especially with seabirds of such quality skimming the towering crests and disappearing into gaping troughs.
In contrast, the flat-calm sea conditions we were treated to didn't really offer up quite the show of seabirds or cetaceans, with a few strings of Gannets heading north, some Porpoise, the odd flock of Kittiwakes, and an azure mass of By-the-wind Sailors floating close to shore in the flotsam. 
After a great few hours on the island, we boarded the island ferry Dun an Oir II at 4.30, leaving the deep blue waters of the harbour and setting off across a rolling atlantic swell back to Baltimore. 
Another bird observatory ticked off, and another remote island visited! A big thanks to Sam for the warm welcome and taking the time to show us around.